2019 DATES & HOURS
* Early Entry to Lower Level booths at 9:00 am each morning.
** An Evening with IN KC, Girls Night Out & Saturday Night Out are included with your regular ticket admission. There is no additional cost or special ticket required.

Admission
Adults (at the door) $14.00
Adults (online only) $12.00
Multi Day Pass $28.00
- Access to show on all 4 days
- Multi-Day ticket only valid for purchaser. So only one ticket can be purchased at a time.
- Multi-Day tickets can only be picked up at the Lower Level entrance Will-Call located off 110th street.
- Ticket purchaser must be present and show ID each day they get a ticket, only one ticket per multi-day pass will be issued each day.
Children Ages 12 & Under FREE
Buy Tickets

Interested in Corporate Tickets?
Click Here to contact a representative.


I'm unable to find my tickets!
Have your ticket confirmation e-mail resent by clicking the button below: Resend Tickets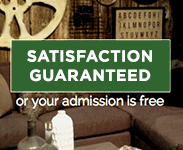 We're so sure you'll enjoy the show, we'll refund your admission if you don't!
See the show office for details.
Show Location
Overland Park Convention Center
6000 College Boulevard
Overland Park, KS
www.opconventioncenter.com


View Larger Map


PARKING & SHUTTLES
The Overland Park Convention Center parking lot is located on the north side of the building on 110th street. There are over 5,000 FREE spaces for staff, participants, and attendees. Spaces are available on a first come first serve basis.
REMOTE PARKING LOTS
BLACK & VEATCH LOT - 112TH AND LAMAR
Starting at 5:30 pm on Thursday the 14th we will have a free shuttle running from the Black & Veatch parking lot at 11401 Lamar Avenue, Overland Park, KS 66211. This shuttle will continue to run each day of the Holiday Boutique .
Click Here for Black & Veatch Lot Shuttle Map and Hours

MARRIOTT OVERLAND PARK - 10800 METCALF AVENUE
A complimentary shuttle service will also be running between the Marriott Overland Park and the Overland Park Convention Center during show hours.

The shuttles will leave the Marriott on the hour and at 1/2 after the hour for the Overland Park Convention Center. Shuttles will leave the Overland Park Convention Center at 1/4 past and 45 minutes after the our for the Marriott. Shuttles will drop off and pick up at the 110th Street doors of the Overland Park Convention Center.
Click Here for the Marriott Shuttle Map Hours
HOTELS

We have negotiated discounted rates at the following hotels during the show:
Sheraton Overland Park Hotel at the Convention Center (attached to OPCC)
6100 College Blvd
Overland Park, KS 66211
913.234.2100
One King rate of $125.00 a night
Two Queens rate of $150.00 a night
For discounted rates Click Here to book online.
Discount Deadline is October 23, 2019
Marriott Kansas City Overland Park (located 1 mile from OPCC)
10800 Metcalf Avenue
Overland Park, KS 66210
913.451.8000
One King or Double rate of $125.00 a night
For discounted rates Click Here to book online.
Discount Deadline is October 22, 2019