Exhibitor Spotlight: Bold Apparel Company
We're excited to welcome Bold Apparel Company to the Holiday Boutique, November 14-17 at the Overland Park Convention Center. Before you shop this unique vendor in Booth #18 check out our brief Q&A with the Bold Apparel Team.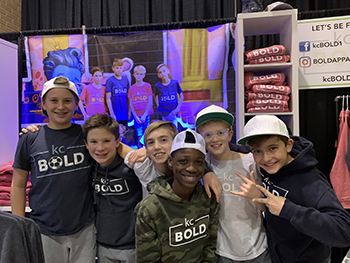 Please describe your products.
"We are a t-shirt company started by 6 twelve year olds with a commitment to cozy. Check out our t-shirts, sweatshirts and hats in kids and adult sizes."
What are your best tips for the holiday season?
"Be BOLD."
What are your featured items this season?
"We have the softest t-shirts and sweatshirts."
What's your best holiday shopping advice?
"Be thankful, be thoughtful, and be thorough! kcBOLD fits nicely under the tree."
What's your favorite part about being in the Holiday Boutique?
"We have met many other vendors who have been so encouraging and supportive to us. We also love meeting all of the new customers and telling them our story."
What's your favorite Christmas movie?
"The six of us can't agree on one, so we ranked our top 3. #1 is Elf #2 is A Christmas Story #3 is Polar Express (we still go watch this together every year at Union Station."
Don't miss your chance to shop hundreds of unique vendors, including Bold Apparel Company. The Holiday Boutique is happening this weekend - get your tickets today!
Nov 16, 2019, 14:00 PM