Exhibitor Spotlight: Belle Toffee
We're excited to welcome Belle Toffee to the Holiday Boutique, November 14-17 at the Overland Park Convention Center. Before you visit this unique vendor in Booth #406, please enjoy our brief interview with owner Jon Marak.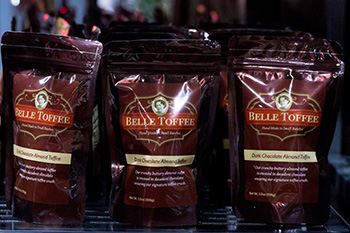 Please describe your products.
"Belgian milk and dark chocolate coated almond toffee, Roasted hazelnut espresso toffee in Colombian Dark chocolate and Bourbon Pecan toffee coated in Belgian Gold chocolate."
What are your best tips for the holiday season?
"Make sure you come by the Belle Toffee booth for samples of all four varieties of Belle Toffee."
What are your featured items this season?
"We're introducing our newest flavor of Belle Toffee. Bourbon Pecan Toffee in Belgian Gold Chocolate. Gold chocolate has a wonderful caramel chocolate taste, with rich notes of toffee, butter, cream and a dash of salt."
What's your best holiday shopping advice?
"Get to the Belle Toffee both before we sell out of Bourbon Pecan toffee!"
What's your favorite part about being in the Holiday Boutique?
"Shopping!"
What's your favorite Christmas movie?

"Elf."
Is there anything else you think folks should know about your business?
"We're a local family owned business from Lee's Summit, MO and we use a recipe developed by our Great Aunt Ida Belle in the 1940's to make our delicious toffee."
Don't miss your chance to shop Belle Toffee and hundreds of other delightful vendors - get your Holiday Boutique tickets today! We can't wait to start the holiday season with you!
Nov 4, 2019, 19:14 PM