Exhibitor Spotlight: Created Exotic Minerals
Oct 30, 2019, 17:43 PM
We're excited to welcome Created Exotic Minerals to the Holiday Boutique, November 14-17 at the Overland Park Convention Center. Before you visit this unique vendor in Booth #239, enjoy our brief interview with owner Matt Fries.

Please describe your products.
"We provide some of the most beautiful semi-precious minerals available from Madagascar: spheres, globes, balls, Eggs, ammonites, and large tumbled stones. For a truly unique gift, match one of our stunning spheres with a wide variety of stands to match the decor of "the friend who has everything." A "pirate sack" of large colorful tumbled stones makes a great gift for those young and young at heart. All our mineral products are 100% natural and will last a lifetime."
What are your best tips for the holiday season?
"Because anxiety is a terrible task master, shopping early for Christmas is always a good idea. Wrapping gifts can be a grueling experience, especially the night before Christmas. Consider throwing a gift wrapping party at your home the week before Christmas to do-the-deed with your friends over a glass of mulled wine or holiday tea."
What are your featured items this season?
"We will have several multi-sphere stands at discount!"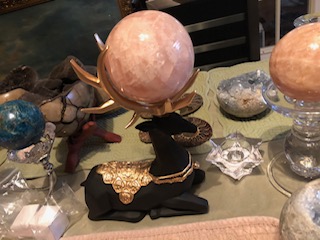 What's your best holiday shopping advice?
"Earlier is better."
What's your favorite part about being in the Holiday Boutique?
"We look forward to offering an unusual gift opportunity to Christmas shoppers."
What's your favorite Christmas movie?
"The 'classic' How the Grinch Stole Christmas."
Don't miss your chance to shop hundreds of unique vendors, like Created Exotic Mineral. Get your Holiday Boutique tickets today. We can't wait to see you all at the Overland Park Convention Center November 14-17.