Exhibitor Spotlight: MAKHALA Designs
Oct 25, 2019, 14:53 PM
A trip to the Holiday Boutique is the perfect way to start your Christmas season! With 300+ vendors to shop, including MAKHALA Designs you're sure to find something for everyone on your list - plus a treat (or two!) for yourself. Before you visit this unique vendor in Booth #4108 check out our fun Q&A with owner Andrea Korein.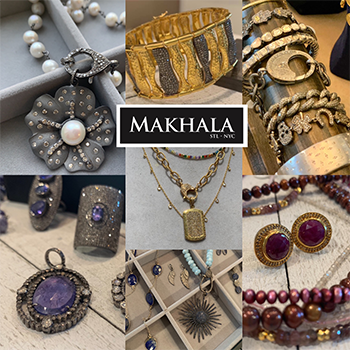 Please describe your products.
"MAKHALA is a unique jewelry collection designed for the sophisticated high end boutique shopper looking for a one-of-a-kind necklace, earring, bracelet or ring. The collection is created with 14kt gold, gold vermeil, sterling silver, diamonds, rubies, sapphires, emeralds, semi-precious stones, fresh water baroque pearls, leather and suede. My designs are inspired by my travels around the world, my years in retail and my desire to create an exclusive line that women love to wear. Each piece is designed to be casual enough to wear with jeans and t-shirt but also transition to an evening affair. This is my first year as an exhibitor and I would love to show you something new and unique."
What are your best tips for the holiday season?
"Shop early, don't panic and make a statement with your gift."
What are your featured items this season?
"We are featuring incredible one-of-kind necklaces, earrings, rings and bracelets. Visit our booth and check out our show specials. Come and we will help you create your own style and customize a piece of jewelry just for you."
What is your best holiday shopping advice?
"Support small business and vendors, make a list and check it twice, and, of course, have some fun. The holidays are a merry time."
What's your favorite part about being in the Holiday Boutique?
"I am excited to be here this year as a first time vendor. I look forward to meeting new people and having some fun and inspire people with my designs."
What's your favorite Christmas movie?
"Miracle On 34th Street."
Is there anything else you think folks should know about your business?
"We have great customer response turning first time customers into life long friends."
The Holiday Boutique returns to the Overland Park Convention Center November 14-17. Don't miss your chance to shop 300+ vendors, including MAKHALA Designs - get your tickets today!